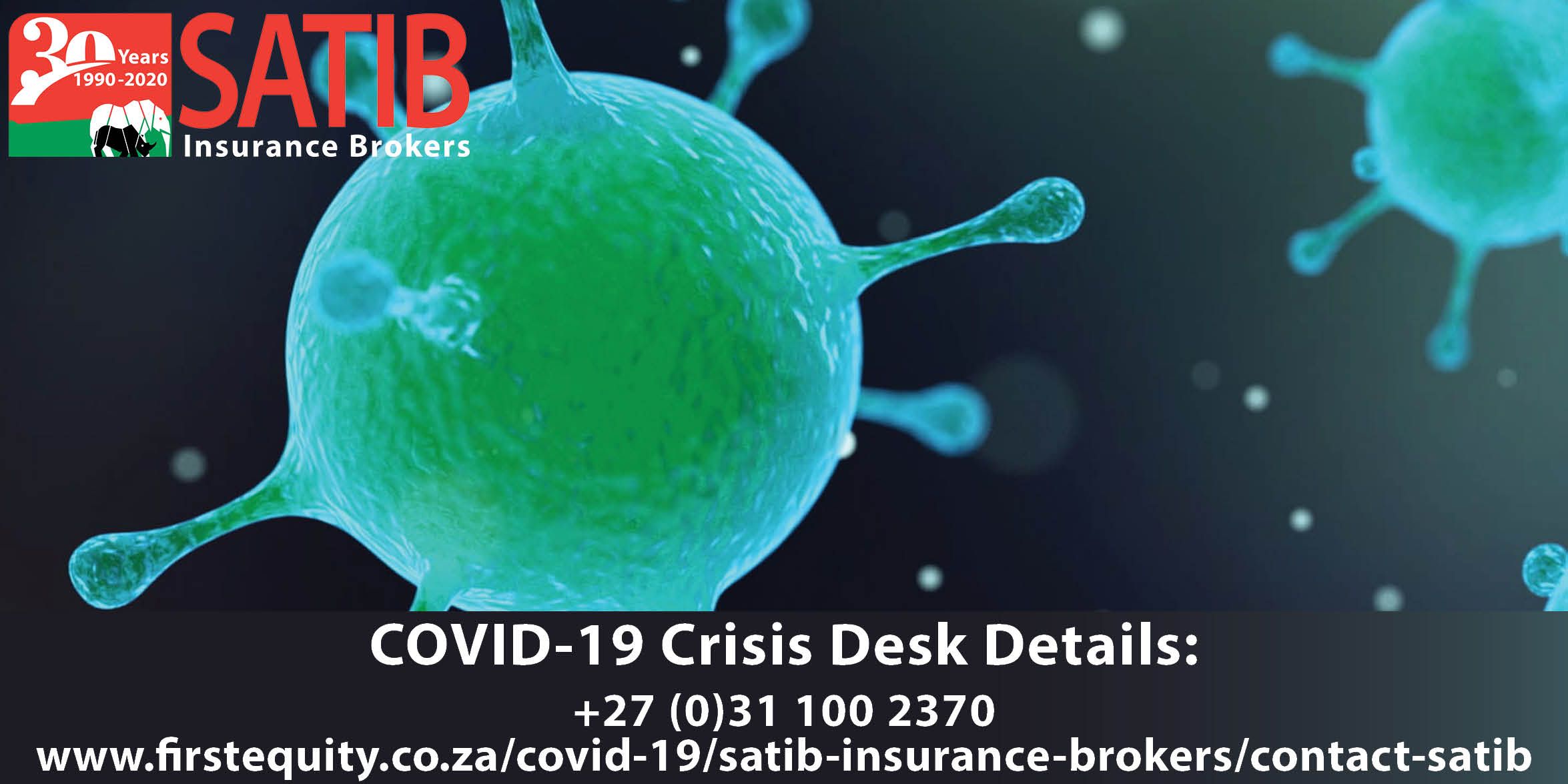 The pace and gravity of the COVID-19 Crisis has had us all scrambling for the past three weeks. As members of the tourism community we are ALL affected: tour operators, agents, insurance brokers and insurers themselves. We need to do everything in our power to mitigate loss during this period so we can continue to provide memorable and world class experiences to travellers once we get through this crisis. What is encouraging is the way that different sectors of the industry are banding together to find better outcomes.
We have taken the following actions to assist as best we can:
Immediately set up a COVID-19 Task Team of experts within the group
Set up a 24 hr COVID operations desk for clients experiencing impact of COVID in their operational environment. Numerous clients have had contact with this team who have guided them through very sensitive scenarios involving guests and staff.
Created a dedicated website for the industry firstequity.co.za/covid-19 to provide links to updated information, risk advise, resource documents for application in your work and home environments.
Engaging with the Executive of our chosen insurance partners to explore options of alternative insurance structures, relaxed payment terms, temporary suspension of clarification around claims process and how cover responds in these extraordinary circumstances – these engagements are on-going but positive
Dedicated COVID email address for Account Executives to share queries so that we remain aligned to client's needs. These FAQ's updated on the website daily.
Entire SATIB team meets daily for an update
We are engaging media, National Associations, applications to Government, participating in industry webinars and leadership forums as a proactive member of the tourism community to navigate the best path through this crisis.
Engaging with external organisations and legal experts to decipher the complexities of the situation.
Even so, we don't necessarily have all the answers yet, so we ask for your patience as we work through determining and providing the best solution for you. Our entire focus is on ensuring that our industry emerges in the best shape possible.
SATIB has been operating for 30 years and have been at the forefront of insurance in the Tourism, Hospitality & Leisure industry in Africa. This current crisis has bought about many questions regarding what is insured and what isn't. We are reviewing all policy wordings in conjunction with industry leading advocates and will be taking the fight to insurers on behalf of the industry.
We are in the process of reaching out to all our clients to look at what covers can be postponed and reduced in this time of crisis, prior to all insurers deciding on whether they are willing to give any premium deferments or holidays to the industry in general.
We have taken the liberty to extract some previously posted FAQ's you may find useful. They are all available on www.firstequity.co.za/covid-19
Q – What insurance-related business continuity measures should I consider during this crisis?
You may be facing the situation where you need to consider cost reduction measures in order to ensure that your business can survive this pandemic. Although Insurance is often the first to go, we would caution you against cancelling all your insurance covers. If you temporarily suspend your operations, you will still have insurance risks that would need to remain covered. As your short-term brokers, we are engaging with product providers to determine what relief measures we can offer to our clients during this time. Please contact your Insurance Advisor to discuss the structuring of your insurance portfolio and your insurance needs during this time. Initiatives that we are currently discussing with our clients and Insurers include but are not limited to the following:
Working with clients to identify the risks and covers that will not be applicable or appropriate during this shutdown or slowing of trade, such as guest property, extended passenger liability etc. Reduce or remove those from the cover.
Revise motor portfolio – vehicles parked and not in use may be able to have cover altered to Third Party, Fire and Theft as opposed to Comprehensive.
Potentially remove or change to declaration basis those items such as stock which will give immediate relief without exposing the client in the long run
Review rates where justified and possible.
Review forecasts of Turnover and Fee income, as well as bed nights as these will all affect the premium calculation of covers such as Public Liability, Guest Evacuation, Passenger Liability and Professional Indemnity.
Please note that the above are examples and we cannot guarantee that all these options will be possible.
Q – How could the lockdown impact my insurance risks?
The National Lockdown could have implications for your insurance risks.  Please contact your Advisor if the following are applicable –
Insured property left unoccupied
If your property is left unoccupied as a result of the lockdown, you should contact your Advisor to discuss any insurance implications and what steps you should put in place during the lockdown period.
Material changes to your risks
If you have any material changes to your risks, you need to notify your insurance advisor so that they can liaise with your insurer.  Examples of material changes:
Increase in stock limits due to increased demand (this may be experienced by businesses who are providing essential goods).
Premises unoccupancy (as per point 1 above)
Change in security measures
Change in use and parking of vehicles
All insurance policies have a general requirement for the Insured to exercise due care of the property insured.  In short, you should act as if you are not Insured.  If the lockdown is impacting your ability to comply with this general requirement, please get in touch with your Advisor to discuss your concerns.
The lockdown may result in a change to the way you use and store your vehicles.  As an example, we have seen clients with motor fleets, parking their vehicles on an open plot or in a shed whilst not in use.  Any change to parking, security or use of vehicles could impact your insurance.
Q: If I have Business Interruption cover, does my policy cover me against losses my business may incur owing to interruptions caused by the COVID-19 outbreak?
Business Interruption cover is there to provide cover against losses you may suffer as a result of your business being interrupted following an event for which you have bought cover such as a fire, earthquake or storm. This means that there is generally no cover against business interruptions caused by uninsured events such as an economic crisis or a viral pandemic. This is not unique to specific policies and is the norm on general short-term insurance policies across the world. A policy may have an extension to the Business Interruption section that provides cover for losses arising from "Prevention of Access / Denial of Access" – the above applies to this cover extension as well in that it too needs to be caused by an insured event resulting in damage to your property. Your policy may also have an extension to the Business Interruption section for "infectious / contagious diseases". This extension does not require physical damage to your property and may provide limited cover subject to the fulfilment of the terms and conditions of this extension which differ across products. A material term of this extension is often the radius from the origin of the outbreak within which your property must be located. Your Insurance Advisor is best placed to check this extension and advise you specifically on the product your policy is based on. We understand that the tourist numbers are diminishing and the impact on your business (like on ours) is significant.
SATIB is here to help so please contact your Insurance Advisor to discuss what we can jointly do to minimize the fallout for both our businesses.
Q – What about all the cancellations that I am receiving from my Customers?
Many of the queries that we have received relate to loss due to your customers cancelling bookings as a result of the pandemic. In order to minimize your losses, we advise you to review your own cancellation conditions in your contracts with your customers in order to establish if you required to refund. If your cancellation conditions do not require you to refund, then you could consider allowing customers to rebook for a later date and/or establish if their loss could be recovered in terms of their travel insurance policy.
Q – Does my insurance cover Force Majeure?
A "force majeure" clause (French for "superior force") is a contract provision that relieves the parties from performing their contractual obligations when certain circumstances beyond their control arise, making performance inadvisable, commercially impracticable, illegal, or impossible. This clause may well be in your contracts with agents / buyers and if they activate it would typically mean you are obliged to refund deposits / payments in full. This is a contractual matter and not an insurance matter. There is no cover and you should consult your legal advisor in this regard.
Q – How would insurance respond to a National Shutdown?
A direct order by Government to shut down your operation is not covered by insurance. Historically other countries have seen government release funds to ease the financial exposure and we have seen initiatives put in place by our own Government to ease the pressure in certain segments, but these will certainly not be accessible to all. We encourage you to take note of our suggested steps in mitigating financial loss during this crisis.
Q – As a tour operator, what is my legal liability exposure as a result of one of my customers transmitting the virus to others?
According to the opinion prepared by Advocate Stefan De Beer (and available on the firstEquity Group Covid-19 website), liability would depend on various factors and would be determined on a case-by-case basis. That being said, and circumstance dependent, it is unlikely that you would be found liable for spread of the virus provided you took reasonable precautions, in the circumstances, to minimise this.
Disclaimer – The moment that the World Health Organisation (WHO) declared Covid-19 as a global pandemic, it has an impact on all Insurance policies and Reinsurance policies.  Specific queries regarding impacts on your cover will need to be dealt with on a case-by-case basis and we would therefore recommend that you contact your insurance advisor to discuss your risks and risk management implications.