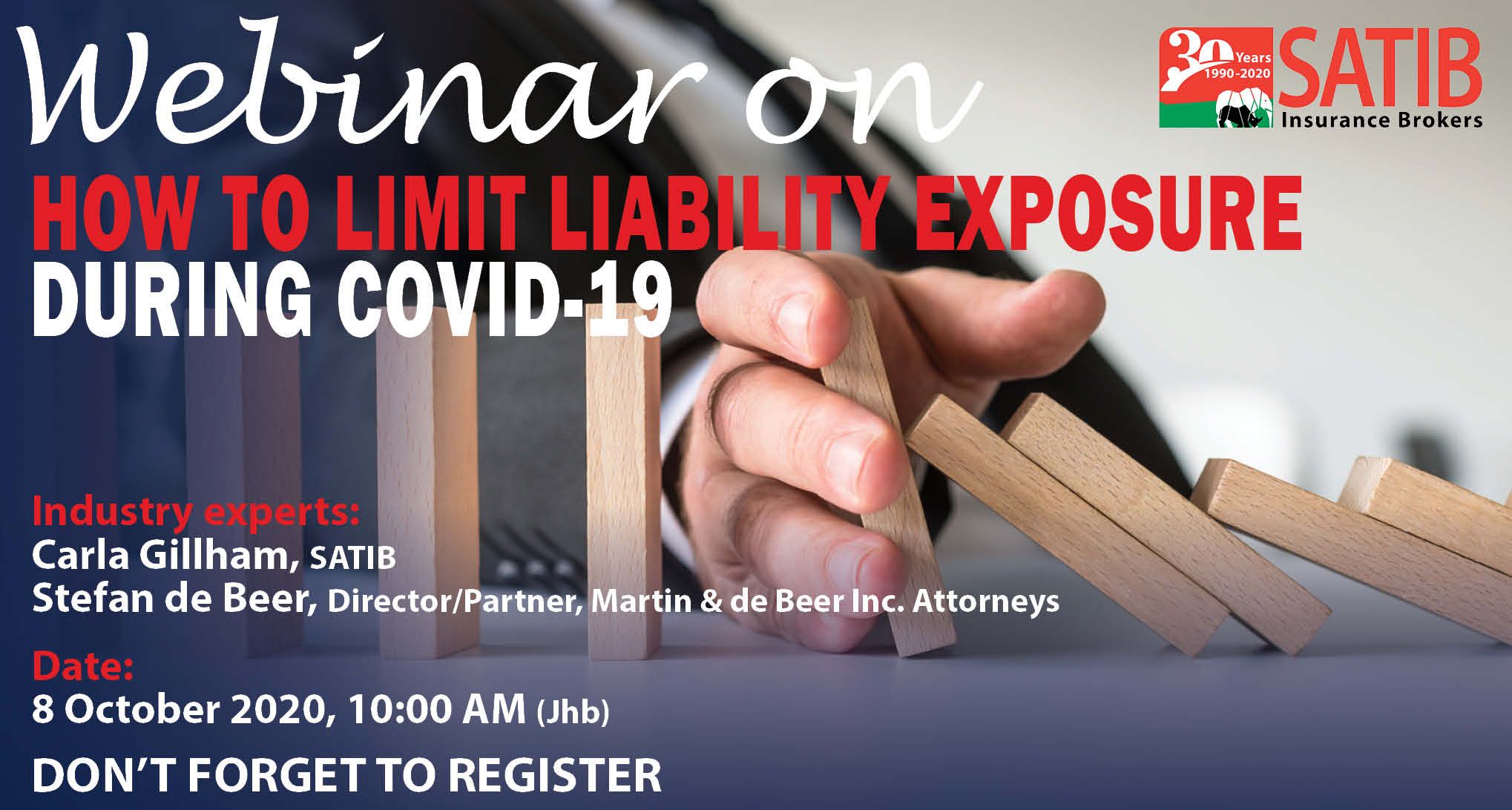 On prepping for this webinar, I thought I'd check some of the synonyms for LIABILITY, and I quote, "obligation, responsibility, legal responsibility, problem and burden". Sounds in keeping with what a lot of us have experienced during 2020. I am sure I speak for many when I say I'm ready to see the back of 2020.
Liability runs parallel with protocols, procedures, rules, indemnities, reparations, compensations, terms & conditions and our pet hate – the small print. All the things we wish we had read comprehensively, instead of glossing over, when the time comes to make a claim.
How do you limit your company's liability exposure during a global pandemic? And how do protocols, indemnities and T&Cs come into play?
Liability is a broad field and a complex topic, and you are not alone if you feel daunted by it. We have witnessed this time and again during this chaotic Covid-19 pandemic, and as a result, are hosting a webinar to help unpack it for you.
SATIB's own underwriting expert, Carla Gillham, and Attorney Stefan de Beer will take you through everything you need to know about liability risk, management, cover, as well as legal implications. However niche your business, ensure that your people and property are protected against liability claims.
Date: 8 October 2020
Time: 10:00 AM Johannesburg
Click here to register in advance for this webinar
After registering, you will receive a confirmation email containing information about joining the webinar.
OUR PANEL OF EXPERTS:
Carla Gilham, Executive Head: Group Binder Services, SATIB
Carla is an insurance industry veteran with 20 years' experience in commercial underwriting. She heads up the group binder and outsource relationships and claims. She is an expert in several topics and areas of short-term insurance including cyber and liability.
Stefan de Beer, Director and Partner, Martin & de Beer Inc. Attorneys
Stefan started serving his articles in 2010 while completing his B.Com (Law) degree through the University of the Free State.
In 2010 he obtained his B.Com (Law) degree and continued his studies in law, and obtained his LL.B degree in 2012 after he also attended the Law Society of South Africa's School for Legal Practice.
In June 2013 Stefan was admitted as Attorney of the High Court of South Africa and immediately accepted employment as a Professional Assistant at Hugo & Bruwer Inc.
He started practicing for his own account in February 2017 under the name and style of Stefan de Beer & Co. Attorneys.
Stefan specializes in matters relating to the Companies Act, Act 71 of 2008, commercial, civil and criminal litigation as well as contracts.